A decade ago, my wife and I travelled from Copenhagen to Beijing by land (click here for the account). It took 10 days and we travelled by train and ship. I have always wanted to do the journey again, although not exactly along the same route (we went via Mongolia).
Now I can. I have never been keen on flying, doing it out of necessity rather than preference. I prefer ships, trains, bicycles and whatnot.
Now that I am retired, I can once again plan such journeys, with a passion. For example, in a couple of months I will travel from Copenhagen to Dalian (in China's northeast). This entails a train to Stockholm, a ship to Riga, an overnight train to Moscow, and then what is now called the 'Trans-Manchurian'.
Actually, it is the original route of the Trans-Siberian link. When the Russians were first constructing the railway in the late nineteenth century, they found that the loop north (along the Amur or Heilong River) was somewhat challenging for engineers at the time. So they did a deal with the much-weakened Qing emperor and opened up a corridor through north-eastern China as a short-cut to Vladivostok. This was the origin of towns like Harbin, which still has a Russian core but is now the capital of Heilongjiang (Black Dragon River) province.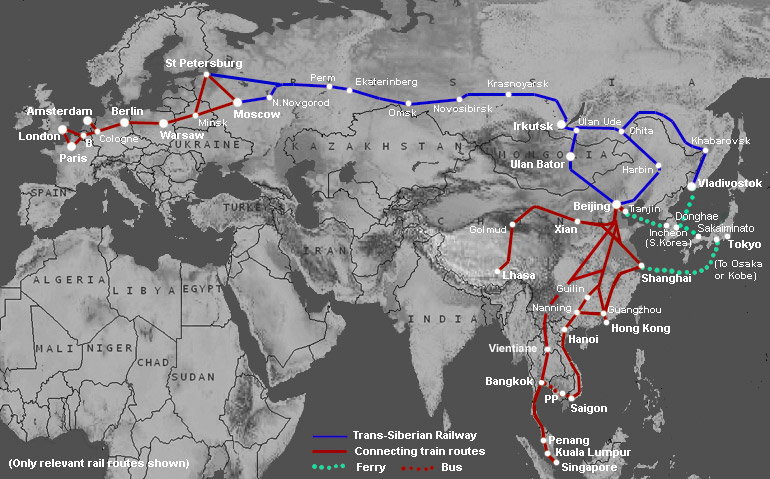 These days, the route goes through Ulan Ude and Chita to Harbin and then Beijing. I will disembark at Shenyang, south of Harbin, since from Shenyang it is only 2 hours by a high-speed train to Dalian.
I hope to follow the route again later this year, perhaps adding a ship voyage between China and Australia. Or, I could take the Silk Route trains (in yellow in the following map):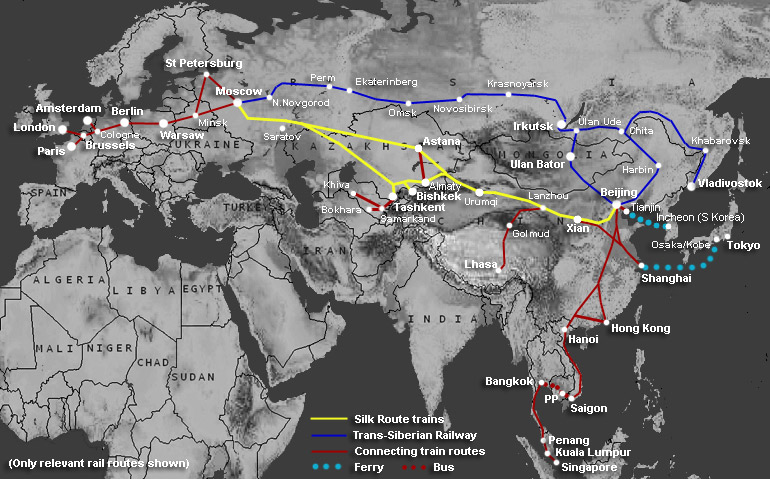 Where do you find information about all of this? There is a great website, which I have used on many occasions, called 'The Man in Seat 61'. Run by a former station master in the UK, it is simply a treasure, with information and links concerning every train service in the world. Click on the 'Trans-Siberian' page for more information, or on the 'Silk Route' page. The website had its initial heyday a decade ago, with a bunch of awards, and then went quiet for a while. But it now has a new lease of life.
Is this a 'product endorsement'? Not really, since 'seat 61' remains a hobby. But if you want to find everything you need to know about the great country of Russia, which is with China a force of stabilisation and peace in a troubled and fearful time for some in the 'West', you can get all you need at Real Russia.
Those who undertake such a journey do it perhaps once in a lifetime. I hope to make it a regular journey.